- READ TIME: 4 min, 22 sec
How To Tell When You Need Drupal Support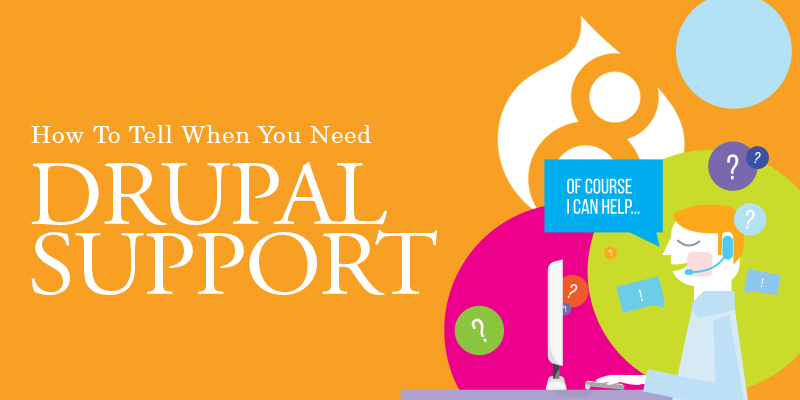 After we build our clients the website they need, it's in our company policy that we advise them to have a full-fledged maintenance plan in place.Unfortunately, their usual response is, "Do we really need one?"
Well, for clients who ask us such a question, our response to them is,"Imagine you had a physical store – Would you go without cleaning it or fixing a broken light bulb?" The same applies to care and maintenance of a website – Just like a physical space, your dot com will need to be maintained with just as much TLC.
"Your website deserves the same kind of love and attention you show your physical, brick and mortar store"
The fact is, all our clients come back to us when their site slows down or some features prove not to be the best fit for their business. So, if you're serious about having a productive and profitable Drupal website, here's the what/when/why of how to tell when you need Drupal support and maintenance.
Scenario #1: No In-House Tech Person
Website owners who outsource their development needs generally don't have an in-house techie to look into their website issues. The fact is, it's very important to have someone you can call when things go wrong with your website, especially if you're running an eCommerce or a lead-generating website.
However, having someone on staff might not be financially viable. Many sites only need 10-40 hours maintenance work per month. If you hire someone in house, you'll be paying them a lot more than 40 hour's worth of work.
So, it's purely a business decision. Are you going to outsource your Drupal maintenance or hire someone full-time and spend 4x times more every month + $4,000 hiring cost?
Scenario #2: Poor Site Performance
A fine-tuned, fast loading website is mandatory for success. The latest research shows that users are not willing to stick around if a website doesn't load in under 4 seconds. There are also other performance issues that surface, like broken links, features that are no longer work, page load issue, etc. These kind of issues occur when the modules are not regularly updated and when you least expect it.
Also, since your site is built on the Drupal CMS, it's essential to have your Drupal core updated to its latest version, always. If these aren't regularly updated then there are high chances of your site malfunctioning or, the worst case scenario, hackers getting a hold of your site's data.
Scenario #3: Expect Magical Results From One Page
Having a website alone does not guarantee results. If you think so, then you're in need of a big reality check. Having a blog alone is not going to get you leads or good search engine rankings. Running specific campaigns that have relevant user-centric information is essential to get the required leads, generate enough revenue and rank well by search engines.
So, such small development needs are essential to make your marketing campaigns a huge success. Plus, each campaign requires a different set of landing pages to give your site the required profitable returns.
Scenario #4: Site Admin Who Doesn't Know Drupal
Website owners have a pretty busy schedule. They not only have to monitor the site, but also handle all marketing activities. With many endless deadlines, it's unfair to even expect them to follow what's happening in the Drupal CMS world.
But, having a Drupal website, it's really important that you have an eye on Drupal news. Just last year there was a huge security breach on nearly a million Drupal websites. When Drupal discovered the vulnerability, they released a patch and a message that stated if a site was not updated within 7 hours, it would be considered compromised.
Being proactive is key for proper maintenance of your Drupal website. At DrupalPartners, we're always in the loop regarding Drupal, so we keep all our client's sites safe and secure from such drastic security breaches.
The Bottom line: You Need Maintenance And Support. Period.
We've stressed the importance of maintenance in the previous scenarios. Sure, we know that you could do all the Drupal things – Run the website, do the marketing along and maintain the website like a pro. But, will you have a personal life? And wouldn't your time be better spent growing the business?
Maintenance is one of the areas where, if given to the right company, you can rest easy and focus on growing your business. So, take the leap of faith and let us handle your maintenance worries. We have packages that are affordable and cater to your business needs.
If you are interested to know more about how Drupal Partner's maintenance works: