- READ TIME: 3 min, 24 sec
Top 8 Drupal Modules For Digital Marketers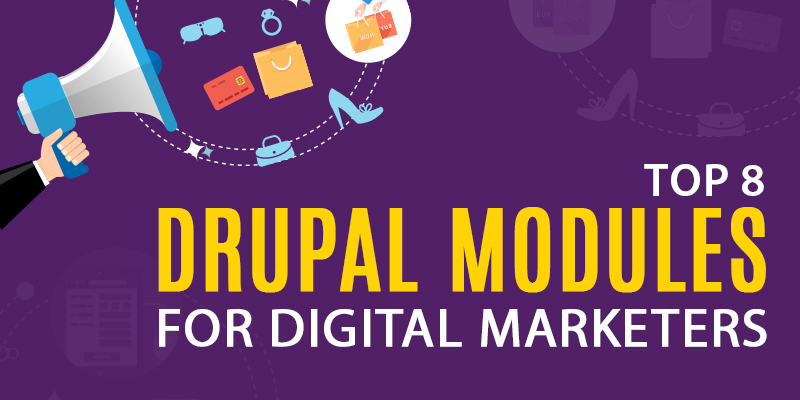 Drupal is best known for its robust structure and flexibility. Especially for marketers, the Drupal CMS lets them to easily create and publish content on-demand for a refined lead generation strategy. For a successful marketing campaign, there are various tools that need to be integrated within the website and Drupal can do all of it effortlessly. So, if you are looking to automate your marketing process, we have picked the top 8 modules to aid your marketing strategy - right from content publishing to lead capturing.
Google Analytics (GA) is a mandatory tool for marketers to understand the performance of a website. The GA module adds a web tracking code within your website along with an admin panel to access the analytics. This powerful module lets you customize the analytics data based on search queries, users, pages, and many more. One can also easily track a user's activity within the website to understand how the content on your site works, and thus make decisions to increase traffic and retention, apart from various Search Engine Optimization techniques.
HubSpot is one of the most important modules for B2B marketers. It helps automate lead generation by capturing the leads from webforms and integrating it with the HubSpot CRM to help marketers track and manage their leads.
Mailchimp is most marketers' favorite tool to automate their email campaigns. With the Mailchimp Drupal module, marketers can easily source a detailed database of the contact list. A 'sign up for our newsletter' feature can be easily added on the site using this module. Marketers can also maintain accurate subscription lists as they update in real-time. There is also an option for creating 'interest groups' to have a better control over the mailing list. With this feature, the end users have the option to manage their own subscription,which will automatically sync with the website.
Loopfusean open source module which helps you refine your lead generation process with unique features like lead qualification and lead scoring by tracking users' Drupal website activities. To use this intelligent feature, you need a Loopfuse account along with a CRM software.
Heatmap tools are another important feature that marketers depend on to optimize their campaigns. Crazy Egg's module can easily be installed on your Drupal website by integrating their pre-defined API. Now, marketers can visually understand the performance of their website and how users perceive it.
Social media is one of the primary content marketing platform and it's crucial to improve your content reach. This easy-to-implement module lets you display the social share buttons anywhere you want on the site to improve content share.
A must have tool for all Drupal websites asit helps to create mobile optimized content that reads well on any given screen. With Google making responsiveness as one of the mandatory features for better site ranking, this module is one of the most important for marketers.
This is a great tool for SEO as it provides structured metatag recommendation. It also supports multilingual websites and provides meta tag suggestions based on the website's language. This module also gives the marketer the control to customize how the content appears when shared on social media.
Marketers looking to automate their marketing process needthese 8 modules installed in their Drupal website. If you are a B2B marketer looking to automate your marketing process, we can help your Drupal website do more, from framing your meta tags to managing site features. Talk to us!