- READ TIME: 2 min, 27 sec
Should We Move To Drupal?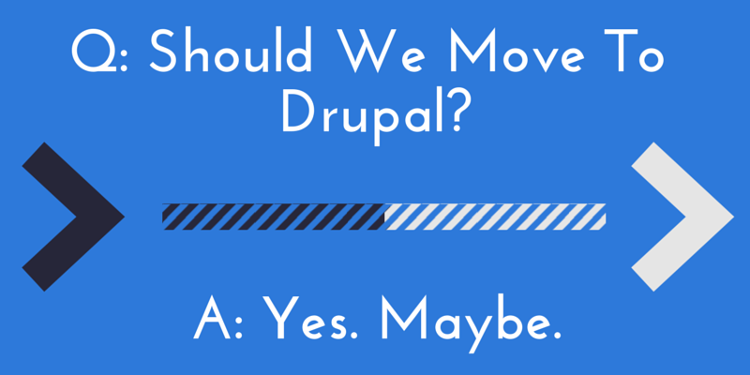 Let's just get this out of the way: One of the top questions we get asked at DrupalPartners is, "Should we move our website to Drupal?"
Our expert Drupal Developer answer: "Yes. Maybe."
In the Drupal community, moving your site over to Drupal is called, "Migrating to Drupal"  or "Drupal Migration" and it is a process, for sure. That's why we always say "Maybe" moving to Drupal is right for you.
At this point, you're probably thinking to yourself, "Our site is ok – it's clean, SEO friendly and (I think) easy to manage/update (I think). Why would we need to move to Drupal?"
We'll, we're glad you asked! Here are
our top reasons to migrate to Drupal
.
You're on a legacy/proprietary CMS system

If you're using physical software (not cloud-based) CMS, we always, always recommend moving to Drupal. Why? Legacy systems are expensive, difficult to update (especially if not cloud-based) and you're always at risk that the company vendor will go out of business/change business directions. Oh, and legacy systems tend to be slow at adapting to the ever-changing SEO/social media/wed trends.

There's no license fee

Really. No single vendor lock-in, no contracts. Drupal is open-source, free and easy to customize, maintain and use. Freedom from expensive proprietary software's is a big deal.

The scalability is incredible

Big government, university and corporate sites have moved to Drupal because it can scale so well (Here's a whole list of them). While your site and business might be small now, you probably will grow. And with that, you need to make sure your site can scale with the increased web traffic.

It's pretty easy to use

If done right, Drupal is very simple to implement. Once it's done, training on the backend for editing/day to day updating is incredibly easy. Your users don't need to speak tech – they just need to know how to click.

It integrates with a lot of systems

Importing/merging/updating data from several sources is a piece of cake for Drupal. It's incredibly adaptable and understands data from all types of sources. Think email signups, ecommerce data and more.
Added reasons
: Drupal is responsive/mobile friendly, great with SEO/social media and has a great community.
So. Back to the question, "Should we move our website to Drupal?"
If you're looking to save money, scale your business and integrate with other software, then yes, Drupal is 100% right for you.
Want to know more? Schedule a call with us and we'll analyze if moving to Drupal is right for you.