- READ TIME: 4 min, 14 sec
Top 10 digital marketing reasons for choosing Drupal CMS in education sites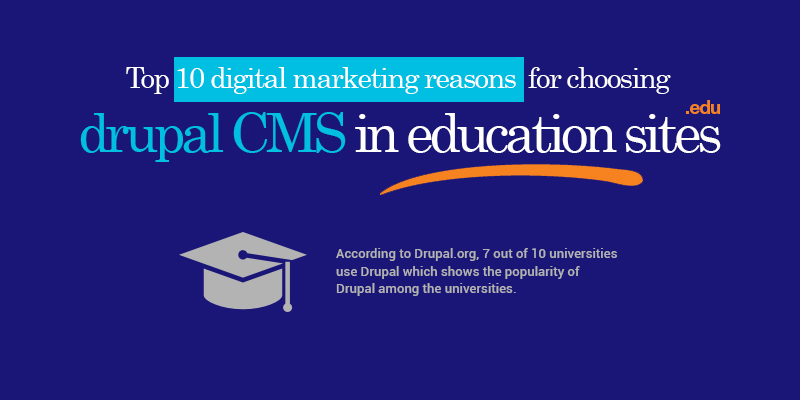 Drupal CMS is widely used in various industries like publishing, entertainment, Government and eCommerce. However, Drupal is the preferred platform in the education sector, especially for top universities such as Oxford, Harvard, Stanford, Duke, Karlstad, British Columbia and many others across the world. According to Drupal.org, 7 out of 10 universities use Drupal which shows the popularity of Drupal among the universities. Why everyone prefers Drupal? Here are the top 10 reasons.
1. Protects site data from hackers
Government sites including White House, use Drupal CMS because they have realized that Drupal sites are tough to hack. Similarly, in an education website, you need to protect students' and faculty's personal details, academic records, day-to-day communications, internal journals and newsletters. Since Drupal sites have robust security and an active Drupal community to alert in case of any threats, the site's information will not be compromised.
2. Manages multi-faceted websites with individual ownership
Typically, universities will have separate websites or pages for different departments and they use different media types for communication. Drupal has features for providing individual ownership and control to each site which reduces the burden of a single administration in IT office.
3. Supports multiple languages to cater international requirements
Universities can attract international students and interact with them in their local language. Drupal has a strong translation module and supports more than 110 languages. So, if your education site is on a global scale, you can reach out to more audience and cater to the global needs with multilingual support.
4. Restricts users from accessing all information
Drupal modules are available to restrict user access as per requirements. For instance, in a university site, there can be different access rights for different designations such as professor, students and administrators. So, to manage access and share the content across the target audience in a short time, these modules will be of great help.
5. Back-end collaboration for effective communication
In a typical education site, there will be content available for the general public while others for example the student category may need to access specific content such as handbooks, white papers, manuals and guides. Drupal has modules and collaboration features for back-end users to manage the documents and provide restricted access to a particular group of audience. Collaboration features are a practical solution for college websites, research teams and internal departments.
6. Content and design creation
Drupal, especially Drupal 8 version, has a friendly user interface that enables easy uploading and managing content, website design and development. There are many design themes to choose from which speeds up the design process.
7. Content reuse and circulation made faster
Drupal has features and modules that easily allow reusing and circulating the existing content across different sites. Whether it is sharing information among departments or intranets, Drupal modules can help you do them in less time.
8. Mobile-first approach
Drupal has many mobile-first modules in order to make the websites easily accessible from mobile devices. Since education sites target students who mostly access the sites using their smartphones, all website functionalities and features work seamlessly on the mobile screen.
9. Workflow modules for content management and follow-up
Drupal has workflow modules that are not only responsible for content management, but also ensures follow-up of every task in the content operation. For instance, writers will be notified to finish tasks like editing, to ensure project closure as per the schedule. In short, workflow module helps universities and others to manage all tasks related to content publishing effectively.
10. Easy content authoring
Drupal 8 supports WYSIWYG editor for creating, editing and posting content easily. Editing content at front-end is possible with in-place editing options. Content preview feature, in-line style options make Drupal, the most user-friendly CMS so far. It has the fastest theme engine and TWIG that is popular for its reliability and consistency through which marketers can create great campaign templates in less time.
Summary
Drupal has many features and modules that cater to the specific needs of education sites like universities and colleges. Drupal sites are
Secure,
Allows you to manage different sites with multiple media types,
Supports more than 110 languages for the international audience,
Helps control and restrict data access and manage documents internally
Facilitates easy content and design creation with friendly user-interface,
Provides easy content authoring and reuse and
Features workflow modules for content management.
Above all, Drupal has 'mobile-first' modules for a smooth mobile experience.
Now, are you ready to implement Drupal CMS for your education website? We are happy to help. Contact us.