- READ TIME: 1 min, 48 sec
Top 5 Challenges While Migrating To Drupal 8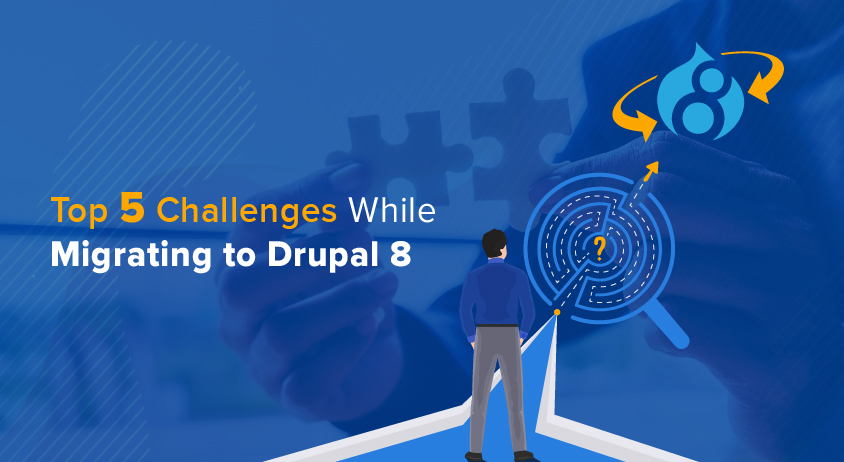 Upgrading to Drupal 8 is an essential albeit challenging business decision. As with all big migrations it could lead to temporary loss of productivity and revenue. While it is important to transition to the latest version of Drupal to enhance security and web performance, it does come with its set of roadblocks.
Here's a quick rundown of the 5 biggest Drupal migration challenges:
During SEO migration, sites are expected to face a dip in rankings and traffic as search engines will take time to update the new index.
Migrating custom modules is a time-consuming task. Not migrating fields created through custom modules will result in content loss.
Rebuilding custom-modules in the Symfony environment is a huge challenge. As there's no backward compatibility in modules, every single custom module has to be rebuilt.
The template engine in Drupal 8 is Twig. Themes will have to rewritten to make them compatible with the new version.
Care will have to be taken to minimize changes to the information architecture and navigation structure of public facing sites.
You know what. You don't have to go it alone. Our Drupal 8 migration rockstars are conducting a free webinar on 28.8.2019 at 11 AM PST. They'll share insider tips on migration best practices and show you how to migrate with minimal fluctuation to your revenue stream and everyday workflow.
Key points that will be discussed:
Advanced techniques to move your information, database and users
How our built-in plugins save costs
Tips to meet development goals and transition deadlines
Best practices for data security
Why Drupal 8 and how it can help you save costs and effort
Join our free webinar on Simplified and Cost-effective Drupal 8 migration- Experts Approach on Aug 28th at 11 AM PST.
Register today. It could be the best decision you've taken all year.