- READ TIME: 4 min, 42 sec
Top 8 Useful Drupal 8 Migration Tips That You Needed To Know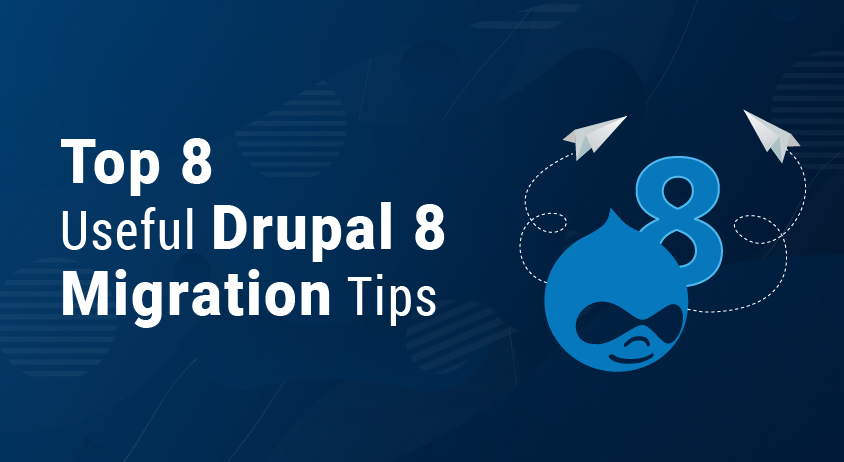 A dedicated community creates Drupal as an open-source platform to provide incredible digital experiences. It is a scalable web content management platform that packs extensive capabilities and unlimited flexibility on the web. Distributed under the General Public License - GNU and written in PHP, it is the number one choice among higher education institutions, NGOs, global enterprises, governments, etc.
What is Special About Drupal?
The freshest market share data posted on various websites show that Drupal is currently one of the top 10 CMS (Content Management Systems) of 2019. At present, Joomla and Wordpress have a larger market share than Drupal. However, Drupal still has a larger market share than other content management systems, including Blogger, Magento, Bitrix, Shopify, TYPO3, and Squarespace. Drupal Modules packs a lot of powerful features that cannot be found even in some of the best commercial content management systems. If your business has previously used a Content Management System (CMS) and wondered, can I do better? Then Drupal is your best bet.
8 helpful Drupal 8 Migration Tips That You Needed To Know
Right from the time Dries Buytaert introduced Drupal - some nineteen years ago, Drupal has steadily climbed the popularity charts. The Drupal community comprised more than 1.37 million members as of March 2019, in which 114,000 users were actively contributing. Drupal CMS is used by over 7.2 million sites, including news, social networking sites, entertainment, blogs, forums, politicians, corporates, media, charities, etc.
Drupal 8 launched four years ago on November 19th, 2015, and not many organizations have made their strides to upgrade Drupal 7 to Drupal 8. One of the primary reasons could be that there are a lot of complexities involved.
Why Drupal 8?
Drupal 7 is sunsetting. According to company sources, it will reach its end of life by 2021. Drupal 8, is a way different software product from Drupal 7 & 6 versions, it packs a full load of top-class features and technology. Therefore, it is a great idea to upgrade now.
Here are a few vital tips that you needed to know for a smooth migration:
Upgrading to Drupal 8 - Get Your Basics Right
Remember, it is a complex process. Therefore, it is essential to involve the development team right from scratch. If you need assistance, better choose a digital partner like us to go about finishing the migration hassle-free. We will ensure that the upgrade goes as smoothly as planned.
Have a Staging Environment Set Up
The first and foremost of all actions is to create a backup of the live site. Never perform the upgrade to Drupal 8 on a live site, as it is not safe to do so. If something goes awry, you'll not have to panic because the backup is always there - simply go back to the old version and figure out what went wrong.
Familiarize The Core Modules
Get the basic understanding of how your site is built, and this should cover obtaining details of the exact inventory of the implemented Drupal modules. Go to Administer > Site building > Modules, or go to the Available Updates page at admin/reports/updates, for the details. These updates may come in handy in the later stages of the migration process.
Look For Module Details
Nevertheless, whatever the Drupal Software version, not all the core modules will have a 1-to-1 complete upgrade path. Make use of the Drupal's known issues page if you stumble on modules that are not upgradeable. The insights can help you to prepare for different scenarios.
Set The Right Platform For Migration
It is vital to run on a standard platform before you commence the migration process. If your regular update is overdue, have it done before you take the big step. Simply said, let the Drupal version be nearest to Drupal 8 as possible.
Migrating Private Files
When you are migrating private files, see to that the file directory is directly accessible to the new Drupal 8 site. Besides this, before the upgrade, configure the Drupal 8 file private path in your PHP settings.
Ensure A Clean Installation
Firstly, install a clean core version of Drupal thereby it can access Drupal 7 host server and database. This will help in completing the migration without facing any hiccups. Many things are configured and structured differently in Drupal 8, so skipping steps without the appropriate preparation or knowledge can cause some severe issues/damages.
Configuring The Drupal 8 Site
Until the upgrade and migration process is complete, hold off configuring the Drupal 8 site. That's because your upgrade and migration process will overwrite whatever configurations you do on the old platform. Once everything is launched correctly start with your configuration process.
Wrap Up
A few of the highlights of your new Drupal site include organized content types, intuitive user interface, enhanced usability, advanced search options, SEO-friendly URLs, and service-oriented architecture. For more such details and insights on Drupal 8 migration attend Webinar on Wednesday, August 28th, 2019 between 11.00 AM TO 12.00 PM PST / 2 PM EST.