- READ TIME: 1 min, 35 sec
Upcoming FREE WEBINAR, "Unboxing Drupal 10: The Future of Drupal Sites in 2023"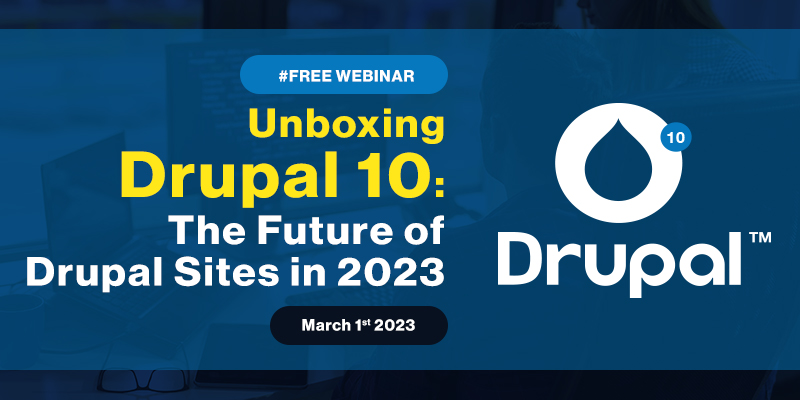 This March 1st at 11:00 AM PST/ 2:00 PM EST, experts from DrupalPartners will discuss the benefits that your business can gain by leveraging the enhanced capabilities of Drupal 10. Learn about all of this incredible platform's features and how they can help you grow!
Let's Get Ready For Drupal 10!
Drupal 10 has rolled out with changes that cannot be ignored, and the possibilities for businesses are endless.
Join us for this webinar to learn about:
What's new in Drupal 10, and what does it mean for your business?
How you can take advantage of all the latest features and tools?
How to install, configure, and maintain a Drupal 10 website
Best practices for setting up new Drupal sites in 2023.
How Drupal 10 helps create a secure, robust website
How to use the new tools available in Drupal 10 to build an engaging user experience
The competition and how Drupal compares to other platforms
And more!
Why Should You Attend This FREE WEBINAR?
Drupal 8 is no longer supported. Drupal 7 and Drupal 9 are scripted to end this November. This would leave a majority of businesses without a website, or worse yet, with a website that is vulnerable to cyber-attacks.
Don't miss out on this opportunity to get ahead by registering for our FREE webinar today! Let's make sure you're prepared to transition seamlessly into the Drupal 10 era.
Sign up now and join us for this FREE webinar on March 1st to get all the information you need about Drupal 10. We look forward to having you!
See you then!