- READ TIME: 3 min, 48 sec
Using Drupal 8 To Improve Your Digital Marketing Strategy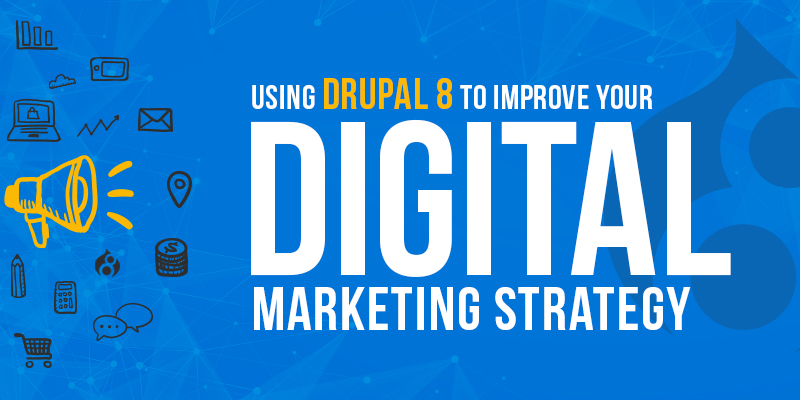 There's no argument that Drupal is one of the most preferred open source content management systems in the world. And with the release of Drupal 8 on November 19th, 2015, its market demand has skyrocketed across various industries. This is mainly because of Drupal's easy accessibility, flexibility and cutting-edge framework.
Drupal 8 is great for everybody who wants an excellent user experience. With the whole world going digital, we can say that Drupal 8 is the only CMS that's built by keeping the digital marketer in mind. Drupal 8 has many significant features that help digital marketers create incredible digital web experiences for their customers.
If you're in digital marketing, here's how Drupal 8 can help you.
1. It's Built On A Simplified & Powerful Framework
Drupal 8 is built and supported by Symfony framework. This is one of its biggest advantages, as it enables developers to write and debug code faster. It's clean and well structured, so developers find it easy to track their code changes through built-in version control. Its configuration management uses YAML text formats. Because of this, it's easy to import and export configuration changes between environments without losing any information. Segmenting content based on various metrics like demographics, device type, language and others is crucial. With Symfony, marketers find it easier than ever to gather data and segment.
2. It Makes Third Party Integrations Easy
For marketers, it's a lot of pain to handle a campaign, as there are plenty of tools that are interconnected with each task. But in Drupal 8, you can easily integrate your CRM, ERP, email marketing, analytics and other marketing automation tools. This provides a unified marketing experience as marketers can easily create multi channel campaigns under a single system. Drupal 8's increased and advanced third party integrations make it a great potential for marketers to choose the kind of tool they want in order to deliver world class digital experience. 
3. It Has Convenient Content Authoring
For digital marketers, content is everything. With Drupal 8's WYSIWYG editor, it has become easy for marketers to create, edit and post content. In-place editing options help you edit and revise your content directly on the front-end. This saves time and increases your productivity. The content preview option gives you the exact on-site look and feel of your content. Drupal 8 also has in-line style options and widgets. You can easily drag and drop an image to add it to your content. Finally, Drupal 8has some of the best SEO modules for optimizing content, page titles, meta titles and more.
Presentations mean a lot to marketers. You can now create your own themes through Drupal 8's TWIG. TWIG is also known as the fastest theme engine and marketers will find it extremely reliable and consistent to create templates that best suits their campaigns.
4. It's Incredibly Multilingual Focused
Content localization management is now possible through with Drupal 8's multilingual interfaces. Drupal 8 has language detection capabilities, allowing a seamless translation of site content. Through this, marketers find it easy to reach customers around the globe and create a better user experience. This is another example of Drupal's impact in a business' digital strategy.
5. Always 100% Responsive
It's important that your website is mobile friendly, especially after Google's mobile friendly algorithm addition. Thanks to Drupal 8, you'll have 100% responsive sites. With this, customers have a unified experience across any device. Digital marketers can now target their mobile users and create more focused campaigns. This will result in increased customer engagement and high content accessibility.
Drupal 8 helps digital marketers to achieve their goal of delivering personalized and targeted content across devices. Marketers have been waiting for a CMS that gives them more than they need. And Drupal 8 will not disappoint them.
Tom Erickson, Acquia CEO has put in the best way possible. He said, "Drupal 8 is built for organizations that are thinking ahead. When it comes to digital, the future is here!" 
What more info? Talk to our Drupal Digital Strategy experts and grow your business for the future!