- READ TIME: 3 min, 49 sec
What's Happening In The Drupal Industry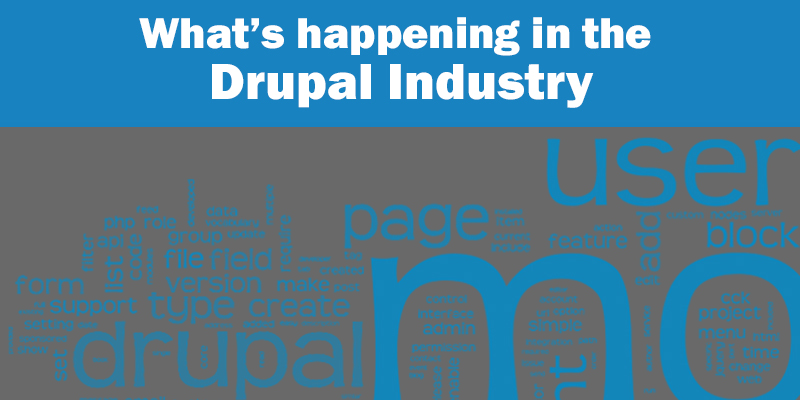 Time to update your site – Drupal's security update is out. Find more Drupal related updates, tutorials, modules and more that's trending now!
Drupal Security Update Released
Drupal is out with the release of version 7.38 and 6.36. It's a mandatory security update for all websites running on Drupal 7 and 6. The critical vulnerability lies on the OpenID module which lets hackers log in as other users, even as admin, into the site and hijack accounts. Another less critical issues lies with redirect links where malicious users can place a replacement link and redirect users to other 3rd party websites. There is also a low key issue with the overlay module which displays admin pages over the current content. This threat extends to users with admin privileges alone. It's essential Drupal sites do this impending security update as soon as possible.
Drupal.org Homepage Sponsorship And 2015 Budget Cut
The Drupal Community has decided to offer Sponsorship program for Drupal supporters. The big news: There will be an advertisement program to generate some amount of revenue to take off the pressure of DrupalCon supporting the Drupal cause. Similarly, the ad program will ensure that they showcase meaningful services that add value to the community. If there are any concerns with this particular decision, a public community feedback is open until July 6th. Similarly, the revenue generated for the year of 2015 is not up to the expectation. Various budget cuts are planned to meet the dedicated spending required for the growth of the community. Read more on the updated financial plan of 2015.
Drupal 8 Theming – Get A Head Start Now
Learn to develop an effective theme for Drupal 8 with this step by step guide. Get detailed information on the new tools and techniques that work for Drupal 8. You'll not only learn to create a theme but also end up developer a simple starter theme. Learn to add YAML Config and the required mapping to enable the theme with the addition of CSS and Java Scripts. This tutorial is based on the Drupal 8 Beta 10 version and the end product might have few relative changes. It's a perfect starter guide for anyone looking to create custom themes for Drupal 8.
Drupal Community News
The spotlight is on Solomon Kitumba and Benjamin Lutaaya Kiyitaof Kampala, Uganda. For nearly three years, they have been on a mission to spread Drupal knowledge in various universities of Uganda. Their quest started when the two individual didn't receive enough support to learn Drupal, so they joined forces to spread their knowledge and educate fellow Ugandans. They learned Drupal through various online materials and YouTube videos. They still struggle with the lack of physical place to teach Drupal in their local community. Learn more about their hard journey and how they plan to take their Drupal quest to the next level.
What's Up With Drupalers In China
In March, the Drupal community in China gathered to have a meet up called DrupalCampChina 2015. It had elaborate keynote speeches and presentation to grab the attendees' interest. The success of the meetup was due to the keynote speakers, Ryan Szrama and Clay Shirky. They shared their expertise and emphasized the importance of Drupal in ecommerce area and how technology shapes our future. China has 557 million smart phone users, which are almost double the population of the United States of America. This massive number is encouraging companies to show their interest in China.
DrupalCI – Automated Testing Environment For Drupal
DrupalCI is not an official initiative and is created to improve the automated testing environment in the existing Drupal.org. It's enforced by replacing the current PIFT/PIFR module and by increasing the functionality and flexibility to speed up the current integration platform. It's sure to speed up the existing test needs of the Drupal community.
The Drupal community is evolving every day. Stay tuned to find more interesting news and learn how they maintain their integrity and love for the platform intact. Want to start your Drupal journey, get in touch with us now!