- READ TIME: 5 min, 28 sec
How Much Does It Cost, And How Long Does It Take To Migrate From Drupal 7 To Drupal 8?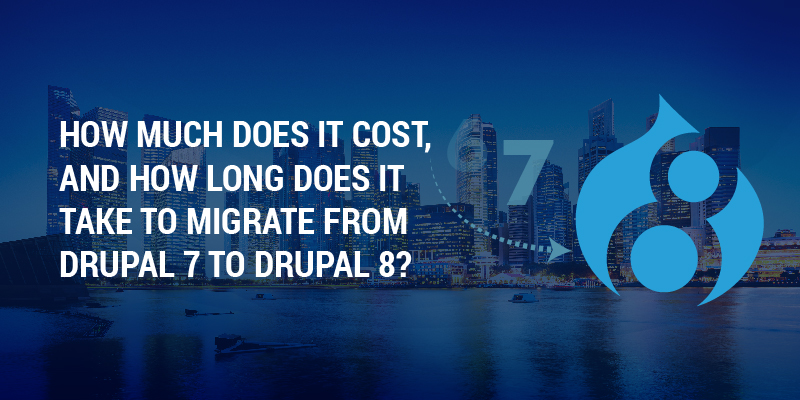 Drupal is the most sought-after secure website platform in the USA education and government circles. Over the years, with its powerful capabilities to develop enterprise and social media applications, Drupal had created an excellent reputation for itself in the entire IT industry. Beyond the US market, it has a universal appeal which helps it to gain a value proposition in the global market. With a host of cutting-edge features, supported by impressive performance levels, Drupal is trusted by thousands of businesses, and organizations throughout the world.
Why Migrate To Drupal 8?
You can migrate from Drupal 6 or 7 to Drupal 8. The benefits of migrating to Drupal 8 offers access thousands of free modules, enhanced security, greatly improved mobile-first authoring experience, latest JQuery & JavaScript compatibility leading to better user experience, performance enhancements with granular caching & big pipe, multi-language in the core along with configuration management, and virtually unlimited scalability.
Here is the pie chart on Drupal users in the US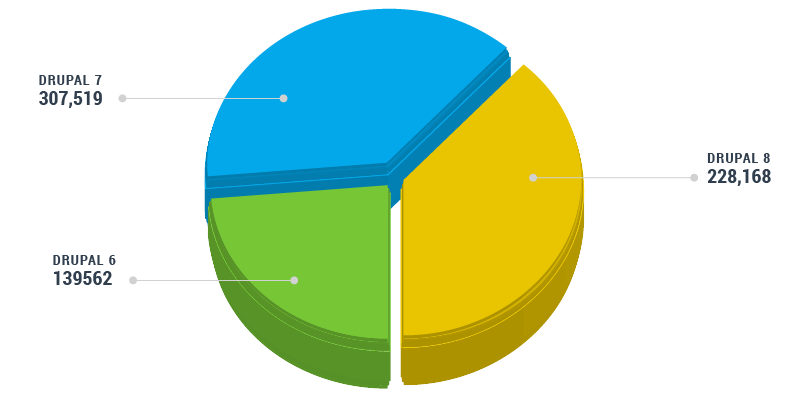 Drupal Migration -
There are numerous things that you need to examine before getting started with your Drupal migration process. Get some research done on the methods, costs, and technology. After that, get your team ready for the migration; thus, be prepared to making it a stable and uninterrupted process.
Migration Strategy:
Typically, migrating to any Content Management System is a tedious, time-consuming, and complicated task. Streamline the workflow of the organization - the first action would be to distinguish the significant issues in migration. It would be best if you had a clear idea as to whether you require migration or up-gradation of your current site to Drupal 7 or Drupal 8. Next, create a migrating strategy considering the following elements - content, investments, timeline, viability, potential bottlenecks, and final results. This approach will put you on the right track to a successful migration on a considerable amount of time and money.
Investigating The Essentials:
Following careful analysis of the needs and preparing a quick list of the various functionalities and features that can be configured appropriately and customized on the Drupal site, kickstart your Drupal migration process. Please make sure that your Drupal CMS supports third party API integration and is extensible to meet your future business needs. Moreover, always ensure reduced downtime and maximum data access.
Initialize:
It is essential to make sure that the project stakeholders are pretty accustomed to the structure of the legacy content and its effectiveness on the new site. Ensure to define the source and destination to import the data in various formats, namely XML, CSV, RSS feeds, etc. Access the data by mapping it on Drupal.
Validating The Migrated Content:
In the Content Management System, the migrated content has to be confirmed once the fields are updated with data. The data can be processed if there are no errors.
Launching The Website:
It requires extensive planning and development before the new Drupal website can go live. A few of the highlights of the new Drupal site would include organized content types, intuitive user interface, enhanced usability, advanced search options, service-oriented architecture, and SEO-friendly URLs.
Upgrade:
For users already working on the Drupal platform, they can upgrade from Drupal 6 to Drupal 8 and Drupal 7 to Drupal 8. The whole task is less complicated if you have good backups and a suitable approach. Upgrading your Drupal website makes it more mobile-friendly, provides multilingual capabilities, and improves user experience.
The Migration Timeline
There is no definite answer to the migration timeline if everything goes as planned, it should take no less than a month. Depending upon the size of the company's website data, the migration time can extend. To migrate from D7 to D8, we set realistic expectations and ensure it is managed and aligned throughout the process. For migration timeline details, we welcome you to take a free consultation with our experts personally.
The Drupal Migration Cost
In the market, even the simplest of Drupal websites could be $15,000 to $85,000. The hourly rate for Drupal migration/development varies from the experience level of the developer. However, on an average, a quality Drupal developer will cost between $65 to $150 per hour. Moving to Drupal Enterprise will cost you $100,000+.
Therefore, businesses need to plan and budget for such a significant effort and expense. Business owners or decision-makers need to set aside time to be involved in the process.
At DrupalPartners, we offer a wide range of Drupal Solution, including Drupal CMS website development, Drupal Migration Services, and website maintenance services. In order to learn about our Drupal migration costs, we request you to get a free consultation from our experts. Rest assured, our pricing is nominal and our migration services are the best in the industry.
Maintenance & Support Plans
Our clients can choose between silver, gold, and custom-level Maintenance and Support plans. It is essential for us to mention here that most of our clients who come to us are unhappy ones with their current Drupal maintenance company. After they choose us, we keep them satisfied, and they never get a chance to look back. Take a look at our Maintenance & Support Plans, and the same can be viewed on our official page too.
| What We Offer | Silver Level | Gold Level | Custom Level |
| --- | --- | --- | --- |
| Support Time | 8am to 5pm EST (Mon-Fri) | 8am to 5pm EST (Mon-Fri) | 24/7 support |
| Monthly Hours | 10 hrs/month | 15 hrs/month | More than 15 hrs/month |
| Code Audit | No | Limited | Full |
| Monitoring Tools | Limited | Full | Full |
| Response Time | 5 hr email response | 3 hr email response | 1 hr phone time |
| Status Calls | Bi-Weekly | Weekly | Always Available |
| Contract Duration | 6 months | 6 months | 6 months |
| Roll Over Hours | None | Any unused hours | Any unused hours |
| Version Updates | Monthly | Weekly | Immediate |
| Backups | - | Weekly | Daily |
| Documentation | - | Full | Full |
| User Training | - | - | Yes |
| Security Audit | - | - | Full security audit |
| Custom Audit | - | - | 1 Custom Audit |
| Innovation Session | - | - | Yes |
If you may have any questions related to Drupal Migration, Drupal 8, Drupal 6 to Drupal 8, Drupal Migration Costs or any other technicalities, please feel free to get a free consultation. We will understand your needs, explain the requirements, and help you to accomplish it in the best possible way!