- READ TIME: 1 min, 43 sec
Migrating From Drupal 6 To Drupal 8 – Get Your Facts Straight (Webinar)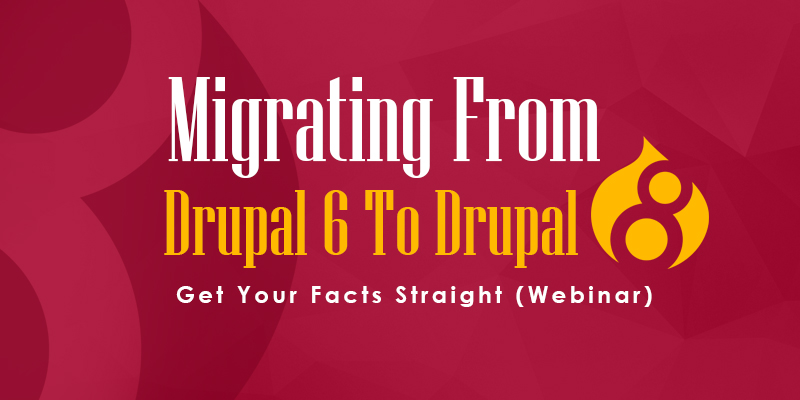 Drupal 8 is officially released! The much hyped Drupal 8 is out and making news. The new powerful Drupal 8 features are being witnessed first-hand by many site admins and owners.
However, some news you need to know: According to Drupal's core policy, they will only support two major versions at a time. This is the most dreaded news for Drupal 6 site owners, as the release of Drupal 8 marks the end of Drupal 6. The complete community support for Drupal 6 ends on February, 28th 2016. That means Drupal 6 will no longer receive any security updates and patches.
Drupal 6 owners have less than 3 months to make a choice: Migrate or risk the safety of their website.  To help, we're hosting a webinar on Tuesday, January 12th, 2016, at 3pm EST for website owners to help them decide the right course of action.
What Will This Webinar Cover
Highlight options for Drupal 6 site owners
Impacts due to hacking threats like Drupalgeddon
Emphasis on the powerful features of Drupal 8
Cost involved in migrating to Drupal 7 or Drupal 6
Why sticking to Drupal 6 is harmful to your site and customers
Who Should Attend This Webinar?
This webinar is mainly focused towards Drupal 6 site owners/site admins. The countdown has already begun and getting an expert opinion on the various options will help you make an informed decision that works best for your business.
We're asking our attendees to jot down questions to make the session more interactive and useful for all participants. Don't be left alone as the Drupal world moves on - Find the right migrating options that work best for you! Register for the webinar today!