- READ TIME: 7 min, 8 sec
Ubercart Vs Drupal Commerce – Which Platform Should eCommerce Owners Choose In 2016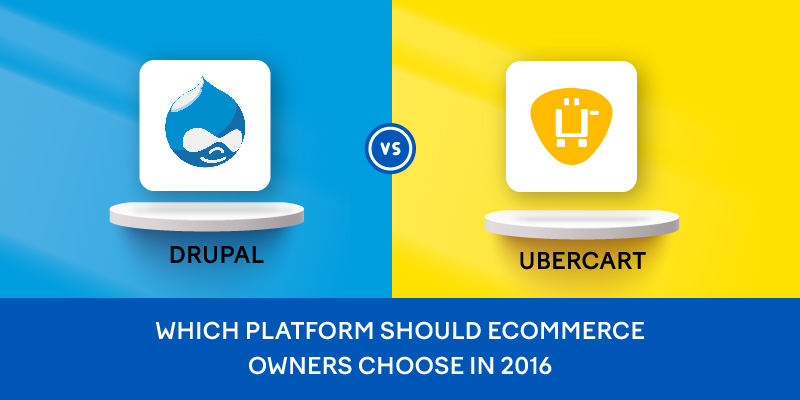 eCommerce sites solely depend on content management systems. Choosing the right platform is essential for running your store in an organized manner. For the most part, eCommerce owners prefer either Ubercart or Drupal Commerce to run their stores efficiently. Both are open-source platforms with a wide variation in their functionalities and structures. Currently, over 50k Drupal eCommerce sites are running on Drupal Commerce and 45k sites on Ubercart. Both are extremely powerful tools and both have their pros/cons.
Having an in-depth knowledge of these platforms helps in creating the perfect online store, ideally simplifying the buying and delivery process. AKA – More money for the eCommerce store owner! With that in mind, our Drupal eCommerce Developers have broken down some of the differences between the carts. Hopefully this will help you choose the best platform for your business!
Key Takeaways
Ubercart is great for eCommerce site owners who are looking for an out-of-the box solution that can be set up quickly and easily.
Drupal Commerce is ideal for developers who want to customize the look, feel and functionality of their online store as per their business needs.
Ubercart's checkout process is simpler and easier to use than Drupal Commerce.
Drupal Commerce has a more robust product management system and a better store administration interface.
Drupal Commerce's search engine optimization is far superior to Ubercart.
Ubercart - A Simple Drupal eCommerce Solution
Ubercart was the first Drupal eCommerce platform built for Drupal 6. Over the years, it's been refined and structured to be more user-friendly. It integrates into your site seamlessly and helps in all functionalities. It also has built-in payment processing and other modules that ease the entire store setup process. We like that!
Why Should You Choose Ubercart?
It has simplified content management - Each product is set as a content node and the variations are fixed as product nodes. It works great for stores that are selling a particular product in two or three different sizes with few color choices.
It comes packaged with a payment module and shipping options - Users have the choice to use it as a whole package or select particular modules.
It's a self-explanatory product - We think Ubercart is very simple to use and easy to set-up.
Great for smaller stores - If you're just getting into eCommerce, Ubercart is a great start.
The default configuration settings are ready to go - Only minor changes might need to be made in the currency, time and other local features.
Customer account creation is included and is created based on their email ids.
Customizable order processing page - The page can be customized according to the eCommerce business model.
Activity logging - A wonderful feature that helps in finding an order's status at any point during the purchase process.
XML import/export - This helps in transferring product information from your old Ubercart store to the new one.
Drupal Commerce - A More Structured Store Creation Process
Drupal Commerce is also an open source system and is very, very customizable. However, Drupal Commerence is much more complex to design compared to Ubercart. A little programming experience is needed to successfully set up an online store that functions smoothly. On the high note, Drupal commerce is a dedicated eCommerce framework that lets user custom develop the website to the exact design and structure needed. It doesn't come with all the required modules - Additional modules can be added to make a product that works for your business process.
Why Should You Choose Drupal Commerce?
Every SKU is assigned as a separate node, irrespective of its color or size - All SKUs are assigned a display node. So, when a product has two colors and three different sizes, then 6 separate nodes are set for it. Each field will have a separate weight and spec, which is easier for shipping and billing.
Complex programming structure - You'll need a little programming set the eCommerce site using Drupal Commerce.
Larger stores can be set up and maintained effortlessly - Stores have the option to be expanded since the platform is a custom framework based model. Great for stores with hundreds of items/colors/options.
No separate shipping and payment process available - Separate modules need to be incorporated to set up a complete functional store.
The documentation is well related to the Drupal API - If you understand Drupal, you'll get Drupal Commerce.
It's a complete package - Drupal Commerce has a solid shopping cart and checkout process.
Other great bonus features - Tax calculation, promotional code implementation, discounts and more can be easily added to the framework to create a robust eCommerce site.
Update:
Drupal 8 And eCommerce

Even though Drupal 8 was released a few months ago, a solid eCommerce solution is still not available. Both Ubercart and Drupal Commerce are out with their alpha releases. But which one is better (more feasible) for eCommerce owners looking for a Drupal 8 update?

Ubercart - Alpha 2 Release

Ubercart is also out with their Alpha 2 release, promising some drastic changes in their eCommerce environment. The Alpha 2 release has some major updates on the 'Shipping' and 'Payment' options.

Drupal Commerce 2 - Alpha 3 Release

With their new Alpha release, Commerce 2 brings in great eCommerce features that simplify site managers' tasks. They boast a simplified cart function and intelligent back-end features that help you create a robust eCommerce website in Drupal 8.
Drupal Commerce Vs Ubercart - Showdown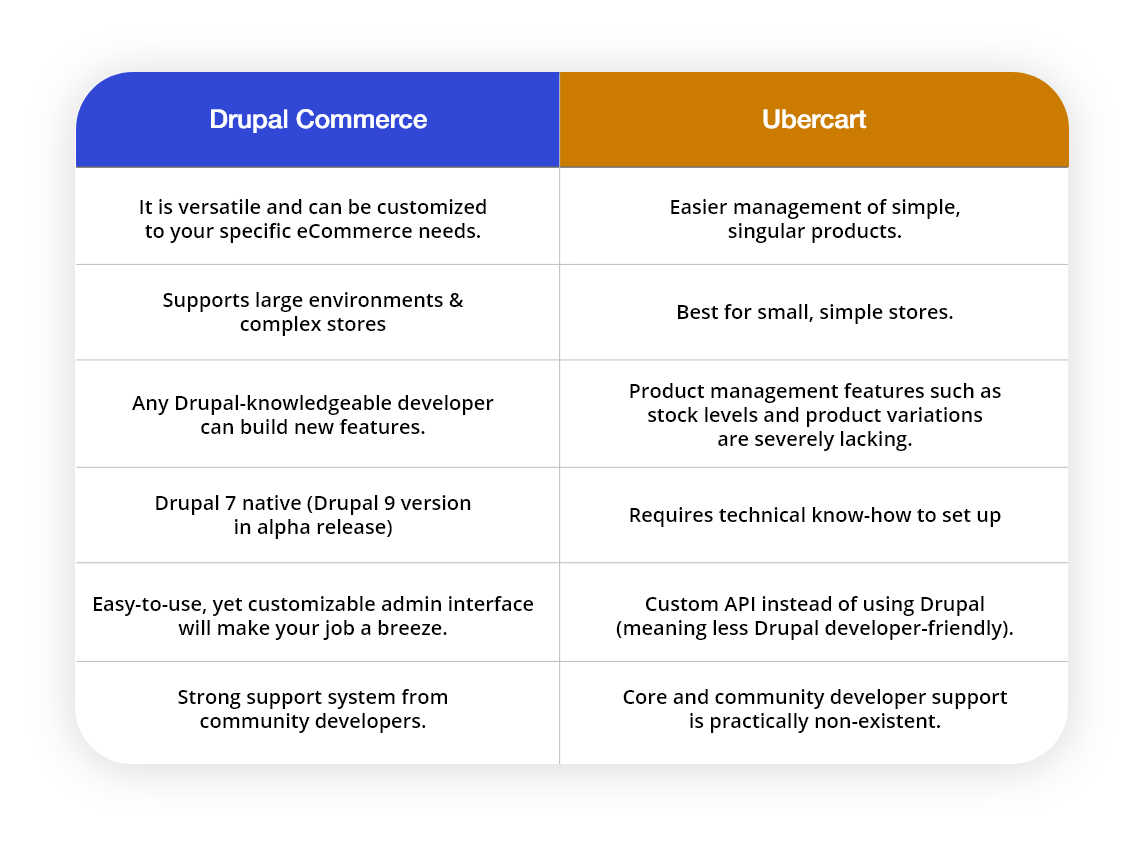 Drupal Commerce Vs Ubercart – Which Should You Choose?
If you're planning to have a small boutique-like eCommerce store, then Ubercart is the right option. It's simple to implement and maintain. Setting up the product database is easy and each product appears in a catalogue based page. Customers can easily browse through and buy products which are passed through the inbuilt shopping cart and payment gateway. However, since each SKU is not specified separately, there might be errors due to wrong weight calculation, leading to incorrect shipping value. This might cause of concern if the product weight of each size varies greatly. Similarly, if you have plans of expanding your shop, then Ubercart is unreliable as the design and templates cannot be uber customized.
Do you know why 24% of US Government sites prefer Drupal?
Government websites are some of the most highly trafficked websites and are prone to security attacks. Because of such sensitivity and demand to serve the citizens meticulously, and dedicatedly, it requires a smart Content Management System (CMS). For this reason, Drupal has proved its consistency and stability for government sites ever since WhiteHouse.gov decided to run on Drupal. As a result, 24% of government sites now prefer Drupal as their CMS platform. SEE HERE…
Drupal Commerce is best suited for user who are technically savvy and can handle complex programming process and maintenance cycle. Setting up the product database is extremely difficult, since each SKU needs to be specified separately. All aspects of the product, from the weight to the color, size, etc. need to be mentioned separately to create the individual product SKUs. But once all these features are set, then the shipment and payment process is seamless as there is no room for errors.
Drupal Commerce is basically a framework which can be customized to individual design and process needs. Similarly, it's extremely easy to expand the store or make improvements, including better functionalities or a much needed store makeover.
And there you have it! If you think we missed anything, let us know in the comments.
With Commerce 2 and Ubercart 8 fighting out to make their release. Let our Drupal experts help you find your best Drupal eCommerce fit.
Click To Find Your Best Drupal eCommerce Fit