- READ TIME: 15 min, 16 sec
What is the future scope of Drupal as a CMS technology in 2023 and beyond?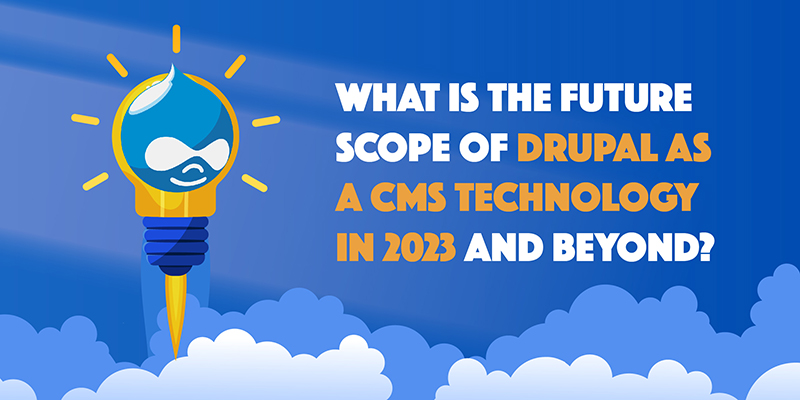 As technology continues to rapidly evolve, so too does the landscape of content management systems (CMS). One CMS that has remained a constant for over fifteen years is Drupal. For both large and small businesses alike, it's an effective way to promote growth through web presence with modern-day features such as mobile responsiveness and vibrant visual design.
But what can we expect from this versatile platform in the future? How did the long journey turn into a big success for everyone at Drupal? This blog post will explore trends in Drupal development and discuss potential implications for users of all sizes, both now and beyond 2023.
What is Drupal?
Drupal is a vibrant, open-source CMS crafted in PHP that's distributed under the GNU General Public License. It powers 15% of the globe's top 12,000 websites and 1.3% of its leading ten million sites - from private blogs to corporate or governmental platforms! Moreover, Drupal has also been utilized extensively for business collaboration processes as well as knowledge management.
How it all began - The Drupal Story!
While pursuing his Master's degree at the University of Antwerp, Dries Buytaert created Drupal as a message board for him and his friends to converse. After graduating, he shifted the program from private to the public domain under the name Drop.org. For five years afterward, Buytaert worked towards achieving a Ph.D. degree at Ghent_University while honing Drupal into what it is today: an invaluable tool used worldwide!
In 2001, Drupal opened its doors to the public and soon thereafter gained massive traction when it powered "DeanSpace", a portal for Howard Dean in his campaign for the US Presidential elections of 2004. This was an incredible milestone that demonstrated just how powerful and effective Drupal is as open-source software. Since then, this platform has been used by organizations from all industries around the world looking to create feature-rich websites with ease.
Taking advantage of Drupal's open-source sharing capabilities, DeanSpace formed a decentralized network of approximately 50 unofficial pro-Dean websites that enabled users to interact with the campaign and one another. After Dean's campaign ended, a few of his Web team members decided to use their experience for the greater good by founding CivicSpace Labs in July 2004. Their aim was to create an innovative web platform that could help promote political activism and engagement. By 2013, the Drupal website had accumulated a comprehensive list of hundreds of vendors offering services specialized in Drupal.
The immense potential of Drupal is highlighted by its booming community. The power of this collective was seen in 2014 when it created the software. This success has been demonstrated recently, with more than 1.4 million copies downloaded from their official website in a period between July 2007 and June 2008 - which shows an incredible rise of 125% since the previous year!
As of January 2017, an incredible 1.18 million websites are powered by Drupal! This includes high-profile organizations such as corporations and media outlets, governmental entities, non-profits and schools to name a few. Not only have these sites taken advantage of the power that Drupal has to offer but it is also undeniable that their success can be attributed in part to its awards; Packt Open Source CMS Awards for three consecutive years followed by the Webware 100 award again for thrice in succession - talk about impressive credentials!
On February 13, 2008, Drupal 6 was made available to the public. On March 5 of the following year, Buytaert declared a code freeze for an upcoming version; on September 1 he announced that it would be called Drupal 7 and could have its release parties across multiple countries by January 5 2011. With this launch came significant changes; maintenance on Drupal 5 ceased with only versions 6 and 7 supported moving forward. Initially set to end-of-life in November 2021 due to COVID-19's effects as well as the continued usage of version 7 worldwide, the date has been delayed until November 1 2023 at least annually reviewable should circumstances change further.
On October 7, 2015, Drupal 8 had its inaugural release candidate (RC1) announced. This new version of Drupal brings a plethora of features and enhancements to both users and developers alike: an improved user interface; WYSIWYG & in-place editing improvements; enhanced mobile support capabilities; the addition or improvement of several keys contributed modules such as Views, Date & Entity Reference plus many more! It also introduces an object-oriented backend that utilizes Symfony components while offering upgraded configuration management options and better multilingual support too.
Drupal 8 rc1 is an unparalleled collaborative effort, with over 3,200 core contributors. It provides users with a convenient experience by filtering HTML designs and only supporting local images.
In October 2022, Drupal released an open-source headless CMS accelerator to revolutionize the way the front end is managed independently from the core system. This new technology provides users with a powerful and efficient tool that can be used to create stunning websites.
The Drupal Journey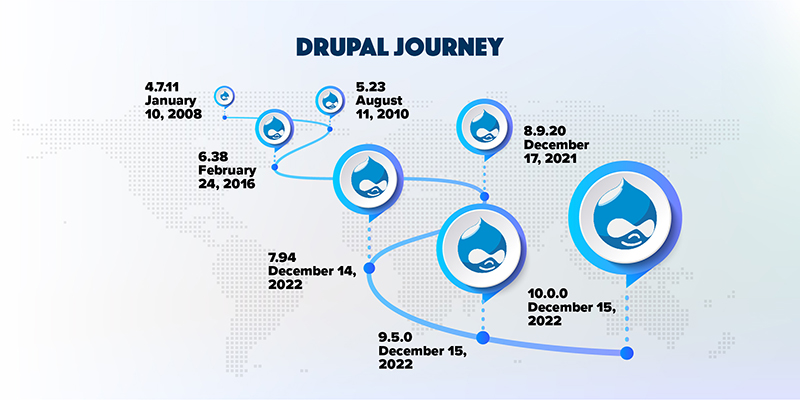 CORE - What does Core mean in Drupal?
The core is the most basic building block of a Drupal website. A core is comprised of the necessary files and modules that make up the main functionalities in Drupal, giving users access to features such as user management, taxonomy, content types and more.
Drupal continues to grow in popularity and is now used by some of the world's top websites, including the White House and The United Nations. It's an incredibly powerful system that is backed by a large, vibrant open-source community. With its vast capabilities and scalability, Drupal remains one of the top content management systems on the market today.
In short, Drupal is an indispensable tool for web developers and users alike, offering a range of features and benefits that enable users to create a website that meets their specific requirements. Whether you're a small business or an enterprise organization, Drupal can help you build the perfect website for your needs. With its easy-to-use tools and comprehensive support network, Drupal is sure to remain one of the top content management systems for years to come.
Technology stack | Understanding Drupal
Core modules
Drupal's powerful core includes modules that can be easily enabled by the administrator to dramatically enhance your website experience. The essential Drupal package offers a multitude of features, including but not limited to:
| | |
| --- | --- |
| Access statistics and logging | Multi-site support |
| Advanced search | Multi-user content creation and editing |
| Books, comments, and forums | RSS feed and feed aggregator |
| Caching, lazy-loading content (using BigPipe) and feature throttling for improved performance | Security and new release update notification |
| Custom content type and fields, and user interface to create, manage and display lists of content. | User profiles |
| Descriptive URLs | Various access control restrictions (user roles, IP addresses, email) |
| Multi-level menu system | Workflow tools (triggers and actions) |
Core themes
Drupal has also introduced a range of responsive themes, which allow sites to be easily viewed on any device including tablets and smartphones. These themes offer a great way to create optimized mobile experiences for your website's visitors.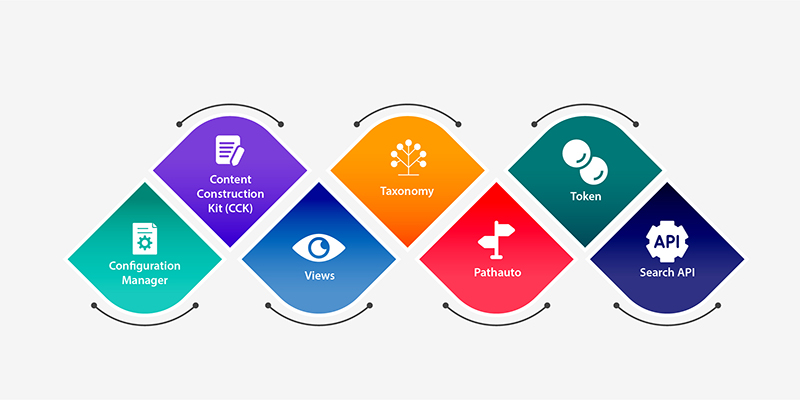 Localization
Drupal also offers a range of internationalization options, allowing users to easily build sites in multiple languages. This helps to improve user experience and create a global presence for your website.
To make sure Drupal is up-to-date with the latest security patches, it is important to keep it updated on a regular basis. The Drupal Security Team releases regular updates, so it's important to make sure your site is running the latest version of Drupal. Additionally, there are also a range of security modules available to further protect your website and its content from malicious attacks.
As technology and web trends evolve, so too do web development tools like Drupal. With ongoing improvements in features and security, Drupal remains one of the top content management systems on the market. Its unmatched flexibility and stability make it an essential tool for any web developer or user looking to build a powerful website.
Auto-update notification
When you install Drupal, it will prompt you to enable auto-update notifications. This means that whenever a new version of Drupal is released, you'll be alerted so that you can update your website accordingly.
Ensuring that you keep your software up-to-date with the latest security patches is essential for maintaining the security of your website and its content. With Drupal's auto-update notifications, you can easily stay on top of the latest releases and ensure that your website is always running the best version of Drupal.
Database abstraction layer
Drupal also provides a database abstraction layer, which allows developers to easily manipulate the data stored in their databases. This helps to eliminate redundant code and makes it easier for developers to quickly and accurately access the data they need.
The Drupal community is committed to providing users with an open source platform that is powerful yet easy-to-use. With its wide range of features and benefits, Drupal has become a popular choice for web developers around the world. From small businesses to large enterprises, Drupal is an essential tool that helps users create powerful websites that meet their specific needs.
Windows development
Drupal also provides support for Windows-based development. By using the Windows version of Drupal, developers can easily build and manage websites on the Windows platform. This helps to eliminate the need to use other web development frameworks or libraries, which in turn reduces development time and cost.
Top List Of Popular Websites That Use Drupal?
Drupal is an exceptionally popular Content Management System, regularly used for websites with large daily traffic. To put this into perspective: statistics from BuiltWith show that 12.8% of the top 10K Google-ranked sites are powered by Drupal–only second to WordPress! 8% and 3.46%, respectively, according to 100K and 1 million ranked website data further emphasize this trend.
Drupal is undoubtedly well-regarded in many countries: it stands as the second most utilized Open Source system in Belgium and fifth place among Poland. But what's even more impressive? The growing trend of people upgrading their Drupal 7 to 8.x or 9.x versions - a clear indication of how appreciated Drupal continues to be around the world!
Drupal is used by some of the world's most popular websites, including: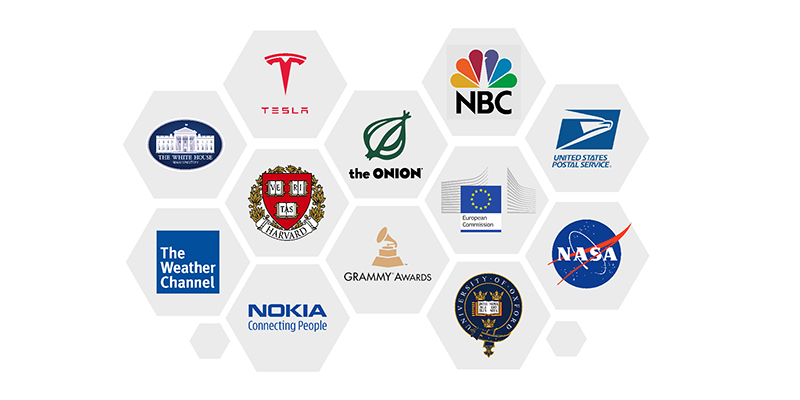 Interesting Drupal CMS Statistics
An extraordinary minuscule 3% of websites online are powered by Drupal.
With over 1.3 million websites running on Drupal, it stands as an undisputed leader in the space of content management systems.
Drupal is a major player in the CMS market, with an impressive 3.4% stake.
With an average pay of $40 per hour, Drupal developers can reap the rewards of their skillset.
With more than 40,000 free Drupal modules available for download, the possibilities are endless!
The Chaos Tool Suite (tools) is arguably the most popular Drupal module, having been downloaded an astonishing 11 million times– and counting.
Despite being free to use, Drupal can cost up to a whopping $50,000 for on-site development. (Depends on how much you want to shell out)
A massive 100,000+ strong Drupal community awaits you and is ready to embrace new members.
Since 2009, the White House website has been powered by Drupal.
Drupal is available in 100 languages. The top five languages include English 19%, Spanish 19%, Maltese 17%, French 16%, Polish 16%, and Russian 13%. (Image Needed For The Red Colored Data)
Drupal usage based on countries - United States 45%, France 17%, India 6%, United Kingdom 6%, Canada 5%, Germany 5%, Russian Federation 5%, Spain 5%, Italy 3%, and Belgium 3%.(Image Needed For The Red Colored Data)
A total of 1,753,142 websites run on Drupal
Drupal's market share as of 2021 was at 4.7% compared to other CMS
The Drupal platform is utilized by over 40,000 of the most visited websites every day - and these are just in the first million sites!
Drupal is the second most popular open-source system in Belgium and fifth place in Poland.
Drupal development is estimated to cost anywhere from $20-50,000 US based on the complexity of the project.
The future scope of Drupal as a CMS technology in 2023 and beyond.
As of 2022, Drupal ranks as one of the most popular Content Management Systems in the world. This is due to its strong base of users and developers, as well as an impressive suite of features that make it a powerful choice for today's websites. However, this trend is likely to continue into the future as more businesses realize the advantages that Drupal provides.
In 2023, Drupal is expected to remain one of the top choices for developers due to its ability to provide a wide range of customization and scalability. Additionally, its robust security features will continue to make it attractive for larger businesses that need more protection from cyberattacks. Furthermore, Drupal's open-source nature means that any developer can contribute to the platform's development and improvement, ensuring that it remains up-to-date and relevant.
The future of Drupal looks bright, as more businesses look to take advantage of its wide range of features. Furthermore, with more than 4 million websites currently powered by Drupal, there is no doubt that it will remain a popular choice for developers, businesses and users alike. With its strong base of support and growing popularity, Drupal is sure to remain a major player in the CMS market for years to come.
Drupal 10, Features and Way Forward
Drupal 10 is the most up-to-date version of Drupal and it offers a wide range of features for developers, businesses and users alike. This includes improvements to back end performance, APIs, media management, multilingual capabilities and more.
The major feature of Drupal 10 is its improved security which will prevent cyber criminals from exploiting any vulnerabilities in the system. The new version also includes a redesigned interface, improved navigation and more intuitive menus which will make it easier for users to access content. Additionally, Drupal 10 offers performance metrics that allow developers to quickly identify any areas of improvement and take steps to improve the overall user experience.
In terms of way forward, Drupal 10 is set to be the foundation for more innovative features that will be released in future versions. These could include improvements to APIs, media management and other areas where Drupal has traditionally been lacking.
Ultimately, Drupal is set to remain one of the top CMS options available in the market, with its feature-rich platform offering developers and businesses a reliable, secure and user-friendly solution. With its ever-growing feature set, Drupal is sure to remain a major player in the CMS market for years to come.
Drupal is the present and future of web development, with a multitude of businesses already taking advantage of its innovative characteristics. There are millions of websites running on Drupal which confirms that it will remain a beloved choice for developers, companies and individuals alike. The support system for Drupal has never been more robust or reliable than now, due to its heightened popularity - there's no doubt about it being an ongoing leader in the CMS market!
Conclusion
With its ever-growing feature set, reliable security features and intuitive user experience, Drupal is all set to remain one of the top CMS options available in the market. As its popularity continues to grow, Drupal is sure to be a major player in the world of web development for years to come.
As the platform's capabilities improve, Drupal will remain the go-to choice for developers, businesses and users alike. Therefore, it's a safe bet that in 2023 and beyond, Drupal will be at the forefront of web development technology.
Overall, the future of Drupal looks bright and promising! With its extensive features and powerful capabilities, it is sure to remain an important player in the world of web development. With its stable base of support and growing popularity, Drupal promises to deliver users a reliable, secure and user-friendly experience for years to come!
At DrupalPartners, we are well equipped to serve our clients for their Drupal journey. We provide world-class solutions for developing and managing professional websites, custom web applications, ecommerce stores and more, all powered by Drupal. Contact us today to learn more about how we can help your business reach its full potential with the power of Drupal!
We look forward to helping you gain a competitive edge in your industry with our Drupal development solutions!
Let's work together to create a powerful, secure and user-friendly Drupal experience for you and your customers. Contact us today and let's get started!